Is This Evidence of Conspiracy?
Conspiracy ? or just incompetence?
Everyday I bump into people who simply can't understand how Borough Green got lumbered with Isles Quarry Housing, and it isn't an easy question to answer standing on a street corner. So here is a sample of the evidence that makes the case.
Of course, I could be wrong: you have a look and see what you think.
Below is an extract from the minutes of the Parish Council meeting of 1st December 2003, The Hanson Document is actually a full size plan of Isles Quarry East and West, showing the whole site covered in housing. Note well that the plan is circulated in "Part 2" of the meeting, where public & press are excluded
The elusive Hanson Proposal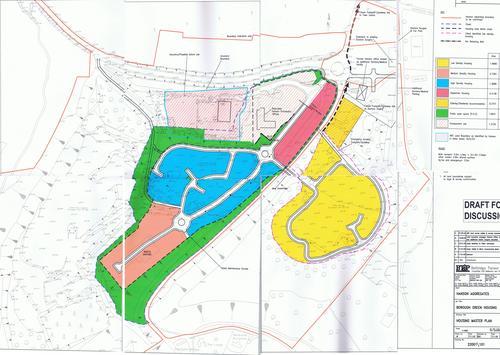 This is the map that Borough Green Parish Council did not want us to see. They illegally (1)** refused a Freedom of Information request for this specific document in 2007, and it is only now (in 2010) that we have access to BGPC Archives that we obtained a copy. All the coloured bits except green are for housing, and include all of Isles Quarry East as well as West, and the Hanson carpark, where the recycling bins are now.
If IQW was allocated for 200+ house, (Simon Wright proposed 235) IQ East and the carpark could take at least another 100-150. There's your 400 !!
Parish Plan 2005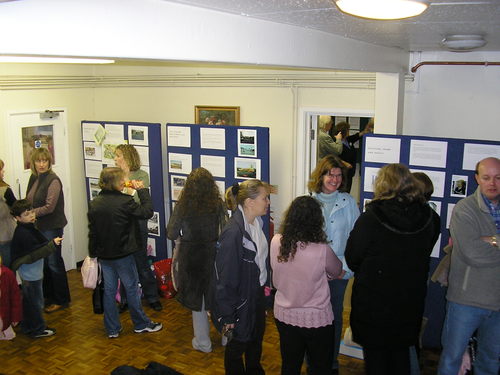 Some of you may well recall the exhibition for the Parish Plan in the Village Hall lobby and Parish Office on 5th & 6th February 2005. You may recall a bit of the Plan that we all approved of that said " Villagers say no to more development". You might be surprised to learn that got retitled "Development supported by villagers" and moved to page 53 in the Plan.
Even more suspicious was the insertion of the mysterious Action Points, listed in full below, many supporting IQW Housing. Now whilst I might have missed a mention of IQW at the exhibition, despite having helped set it up, I have a copy of a survey of public responses. Apparently, none of you noticed Isles Quarry, either!
Read Cllr Charles Willsher's analysis of Public Comments from the exhibition
But what is even more curious is that at the PC meeting on 7th March 2005, just after the exhibition, councillors were invited to a private meeting on the 8th March to "discuss the Action Plan". Curiously, there are no known notes or minutes of that meeting, no report, no votes, and no-one can remember who was there !! Group Amnesia ? (2)**
But by the next meeting on the 4th April 2005, they are voting to pay the printing costs : no mention of voting or adopting it? most irregular, most peculiar. I show the minutes below, and after that is BGPC's letter accompanying a copy of the "Action Plan" to Brian Gates, Chief Planner at TMBC.
They keep telling us IQW was properly and legally publicised and we all had time to make comments. What they don't admit is that "our" Parish Plan had already been sneaked into TMBC's evidence for the Local Development Framework. From that moment on, we were out of the loop. Whatever anyone said, TMBC just waved "our" Plan and insisted Borough Green residents supported the housing development.
Extract Minutes 7th March 2005 & 4th April 2005

BGPC's
letter
to Brian Gates, with a copy of the altered Parish Plan
Now, the
Action Plan
(click link)
is a very interesting bit of evidence. This only came to light when we took over the Parish Council. It is a completely unattributed 3 sheets of A4, which the conspirators cut up and pasted into our severely edited "Parish Plan", and this is what turns it into an "Action Plan" that suddenly supports that IQW Housing that we knew nothing about.
Several people have now observed, unprompted, that the phraseology used is not normal talk, it is "Plannerspeak", a curious way that planners write because they are ever aware that their work may end up in a Court or Inquiry being scrutinised by lawyers.
The Parish Council has no planners, so who drafted that "Action Plan"? (3)** The consultants GVA Grimley, who carried out the Parish Plan surveys are unaware of any Action Points that needed inclusion
Tonbridge & Malling Borough Council would have us believe that they have followed the letter of the Law, and get quite huffy when I suggest otherwise. But here are a couple of questions: It is a matter of public record that T&MBC withheld crucial parts of the Planning History of Isles Quarry from the LDF Planning Inspector, and their own Planning Committee. The Planning Permissions are TM/94/155 and TM/82/1138 which route Stangate Landfill HGVs through Isles Quarry West, slap bang through the centre of the new estate. KCC Mineral Planning expect landfill access to Stangate to be required for 15 years.
It also appears that the information given to Crest led them to believe that IQW was landfilled with inert material in an engineered manner between 1972 and 1984, and yet T&M's own planning permission for the skip factory on top of that landfill was issued in 1962. This error helpfully conceals the fact that IQW was a heavily contaminated unregulated 1950s landfill.
I think there is enough there to briefly but conclusively illustrate what happened.
Another interesting point to note is that in early 2003, before the Hanson proposal, T&M were telling developers who submitted plans for this area that "There is sufficient land banked within the Borough to meet current projections, and there is no need to release land from Greenbelt unless there are Exceptional Local Circumstances". Then Hanson came alongin December, trying to make a fast buck, and T&M reverse its policy. They suddenly discovered they needed 80 affordable homes, and to pay for that and cleaning up IQW, they agreed to a further 120+ so poor starving Hanson could afford it.
Whatever happened to the principle of restoration and quarry owners cleaning up when they are done?
Stop Press.......
All parties, Tonbridge & Malling Borough Council, and the old members of BGPC, now accept that (a) the 2005 Parish Action Plan was invalid (b) The 2007 Freedom of Information refusal was illegal
The below points refer to asterisks above:
(1) The 2007 FOI was illegal
(2)Present at the 8th March "secret" meeting: Sue Murray, Barry Hughes, Jim Bailey.
(3)"Action Points" are alleged to have been drawn up by GVA Grimley.Hmmmm.
More to follow when report arrives.
Free